Benay Hicks
Valentines for Literary Characters We Love
Though its origins are muddled, one thing is true: Valentine's Day is deeply rooted in the art of words and the language of love. The first Valentine's Day letters appeared in the late 1500s and commercial Valentine's Day cards were circulated in the late 1700s. The earliest printed Valentine's Day card on record was printed in 1797 and read:
Since on this ever Happy day, All Nature's full of Love and Play Yet harmless still if my design, 'Tis but to be your Valentine. From the British Museum/BBC
This week, the Book Harvest team is celebrating love and literature by recognizing literary characters they adore. Perhaps you love some of them, too? Happy Valentine's Day from us to you…and don't forget to come say hi (from your car) this Saturday!
Olivia: I love the character Olivia and really enjoyed reading Olivia books to my children when they were young. She was full of emotion and creative ideas and acted sad, disappointed, frustrated when things didn't work out her way. Her responses prompted good conversations about how to handle things in real life. And…she always made me smile. -Rachel, Program Director
Olivia Character Created By Ian Falconer
Cassie: I love Cassie Logan from "Roll of Thunder, Hear My Cry" by Mildred Taylor. Cassie showed me that boldness and bravery in the face of challenges— even when it means pushing back against authority is not only allowed; it is necessary. Cassie's intelligence, her outspokenness taught me that injustice—even when the law of the land—can be challenged with an eye toward change. -Amy, Learning Partnerships Manager
Cassie Character Created by Mildred D Taylor
Harriet the Spy: I love Harriet the Spy because even though she was a bit of a brat, she taught me to look beneath the surface and identify the complexities of people and their circumstances. On a practical level, she taught me the value of journaling — which I did, dutifully, during my teenage years. It helped me cope with my emotions during a pivotal time in my development! -Benay, Communications Manager
Harriet the Spy Character Created by Louise Fitzhugh
Chrysanthemum: I discovered the character I love most when someone gave my daughter a Kevin Henkes book I'd never read, "Chrysanthemum." I love Chyrsanthemum for many reasons — because of her desire to be an actress (I had that desire until I was a young teenager), her confidence (something I always aspired to have as a young girl), and, mostly, because of her name. I wanted everyone to love my name as a child — but it was the days when "Susie" and "Debbie" and "Linda" were the most popular. But ISABEL??? No one I ever knew as a kid had that name — and while I thought it was special, it was the subject of embarrassment for a long time…just like Chrysanthemum's. Chrysanthemum models pride and pluck. And I love her for that! And guess what: ISABEL has become a really popular name! -Isabel, Advancement Director
Chrysanthemum Character Created by Kevin Henkes
Pippi: As a young reader, I LOVED Pippi Longstocking. She was outrageous; she flaunted every rule with abandon; she hung out with the most interesting animals; and her braids, sticking straight out, were bold and fun. Everything about her – her flagrant disregard for obedience, her unfettered imagination, her red hair – helped this rule-bound, shy redhead feel a bit more powerful. Sometimes I would pretend that I WAS Pippi. What a boost to my fragile sense of self and morale! -Ginger, Executive Director
Pippi Longstocking Character Created by Astrid Lindgren
Baby-Sitters from the Baby-Sitters Club: I love the The Baby-Sitters Club series because it taught me how to value friendships, the importance of giving back, taking care of others, and the ability to see female entrepreneurs. Each character also dealt with real life situations such as divorce, moving to a new city and loosing loved ones which helped a middle school me to see how life challenges can happen to anyone. Now that there is a new graphic novel version of the series that my middle school daughter loves it allows us to share our love for The Baby-Sitters Club series together. -Temika, Book Babies Coach
Baby-Sitters Characters Created by Ann M Martin
The Little Prince: When I was in fifth grade I "met" The Little Prince, created by Antoine de Saint-Exupéry, and fell in love. -Meytal, Associate Director for Early Literacy
The Little Prince, Character by Antoine de Saint-Exupéry
Princess Elizabeth: I love Princess Elizabeth from "The Paper Bag Princess". She is clever and pursues her dreams with passion. She always made me feel like I do anything! -Wilma, PreK/K Transition Coach
Princess Elizabeth Character Created by Robert Munsch
Addy Walker: My most cherished character in literature during childhood (specifically adolescence) was Addy Walker from The American Girls Collection. Her optimism amidst challenges and love for family and learning appealed to me. -Christian, NC LiteracyCorps Member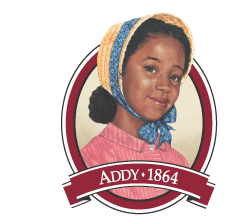 Addy Walker Character Created by Connie Porter
The Good Egg: A character that I love right now is The Good Egg. He strives for perfection in his life to the point where he starts to crack under the pressure. After stepping back and taking some time to care for himself, he realizes that he doesn't have to be perfect. This message of self-love and self-care really resonates with me! -Caitlyn, Book Bank Manager
The Good Egg Character Created by Jory John